Perkasa Hotel (Mount Kinabalu Heritage Resort & SPA)
Kundasang
Intro by admin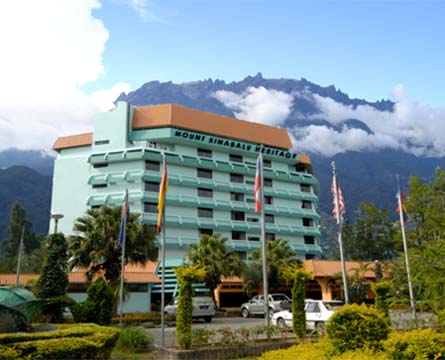 Formerly known as Perkasa Hotel Mt. Kinabalu, the resort is situated atop a hill approximately 5,000 feet above sea level and has a commanding view of the majestic Mount Kinabalu, the highest mountain in South East Asia and dominating Malaysia's First World Heritage Site, the Kinabalu National Park. The panoramic view of Mount Kinabalu offers a breathtaking view from the resort. You can enjoy the beauty of the sprawling foot hills dotted by temperate vegetable farms and the natural cool atmosphere. A major resort area with the Kinabalu Parks, the Poring Hot Spring, a beautiful Golf Course, Flora and Fauna, and other places of interest which are easily accessible from the resort. The resort has undergone major renovation and refurbishment development to serve our guests better. This includes 7 units of semi-detached on the stilt chalets built amidst the pine trees, a new café called Topion Café, internet accessibility via wi-fi, new lobby and entrance outlook, newly upgraded rooms and hallway, a newly extended restaurant to accommodate more seating capacity and newly painted building exterior.
Address :
MOUNT KINABALU HERITAGE RESORT & SPA W.D.T. 11 89809 Ranau Sabah, MALAYSIA
Getting there :
Mount Kinabalu Heritage Resort & Spa is located at Kundasang, Ranau, which is about 90km from Kota Kinabalu city by road.
Extra Information :
Tel: 088-889511 Fax: 088-889101
More Perkasa Hotel (Mount Kinabalu Heritage Resort & SPA) Photos :
Comments on Perkasa Hotel (Mount Kinabalu Heritage Resort & SPA) :
List of attraction around Kundasang :
Kinabalu Park, Mt. Kinabalu
Kinabalu Pine Resort
Perkasa Hotel (Mount Kinabalu Heritage Resort & SPA)
Similar Hotel Type at different places around Sabah :
Beringgis Beach Resort
Dragon Inn Floating Resort
Kinabalu Park, Mt. Kinabalu
Kinabalu Pine Resort
Kudat Golf & Marina Resort
Perkasa Hotel (Mount Kinabalu Heritage Resort & SPA)
Sepilok Forest Edge Resort
Tuaran Beach Resort